Private lessons
Looking to improve your game? We have several coaches that would love to work with your athlete through private lessons! Book a session with our coaches today using the link to their personal calendars, or email to get on their schedule.
Owner & Director of Iowa Select Volleyball Club

Head Coach of the 2022 Iowa 3A State Champions - Assumption High School

Iowa Select VBC - Head Coach - 18 Mizuno (2021-23)
Head Coach of 3 National Qualifying Teams

2018 Gold Medal Winner with Iowa Boys HP & 2019 Iowa HP Girls Select Coach Head Coach - 6 years of Iowa High Performance Coaching

Former Assistant Coach for both Men's and Women's programs at Augustana College

St. Ambrose Men's Volleyball Alumni 2013-2016 
Please email Frank at iowaselectvbc@gmail.com if you have a group of 3-4 girls who want to train together
Iowa Select VBC Co-Founder

Iowa Select VBC - Assistant Coach - 16 Baden (2021-22)
Iowa Select VBC - Academy Coach (2022-23)

Playing sand volleyball for 11 years.

Competing in AVP/Next qualifiers for 4 years

2x Waupaca AA Campion

6x Bix Open Champion

2017 Luau Chicago Open 1st Place Grass & 2nd Place Sand
Instructions for Scheduling lessons:
When signing up for lessons please use the link below to schedule a time. The person scheduling the lesson can put their name in the "Name". In the description box please put names of all players, positions, and any specific skills they would like to work ok. 

If none of the times listed work for your athletes please send me 3 different times that would work for you and I can try to accommodate. 
Prices below are for 1hr lesson
Individual lesson (1 athlete): $60

2 Athletes: $40/ea

3-4 Athletes: $30/ea

5+ Athletes: $20/ea
Payment Methods: 
Cash

Venmo - @kyle-d-condon

Paypal- condonkyled@gmail.com

Check payable to "Kyle Condon"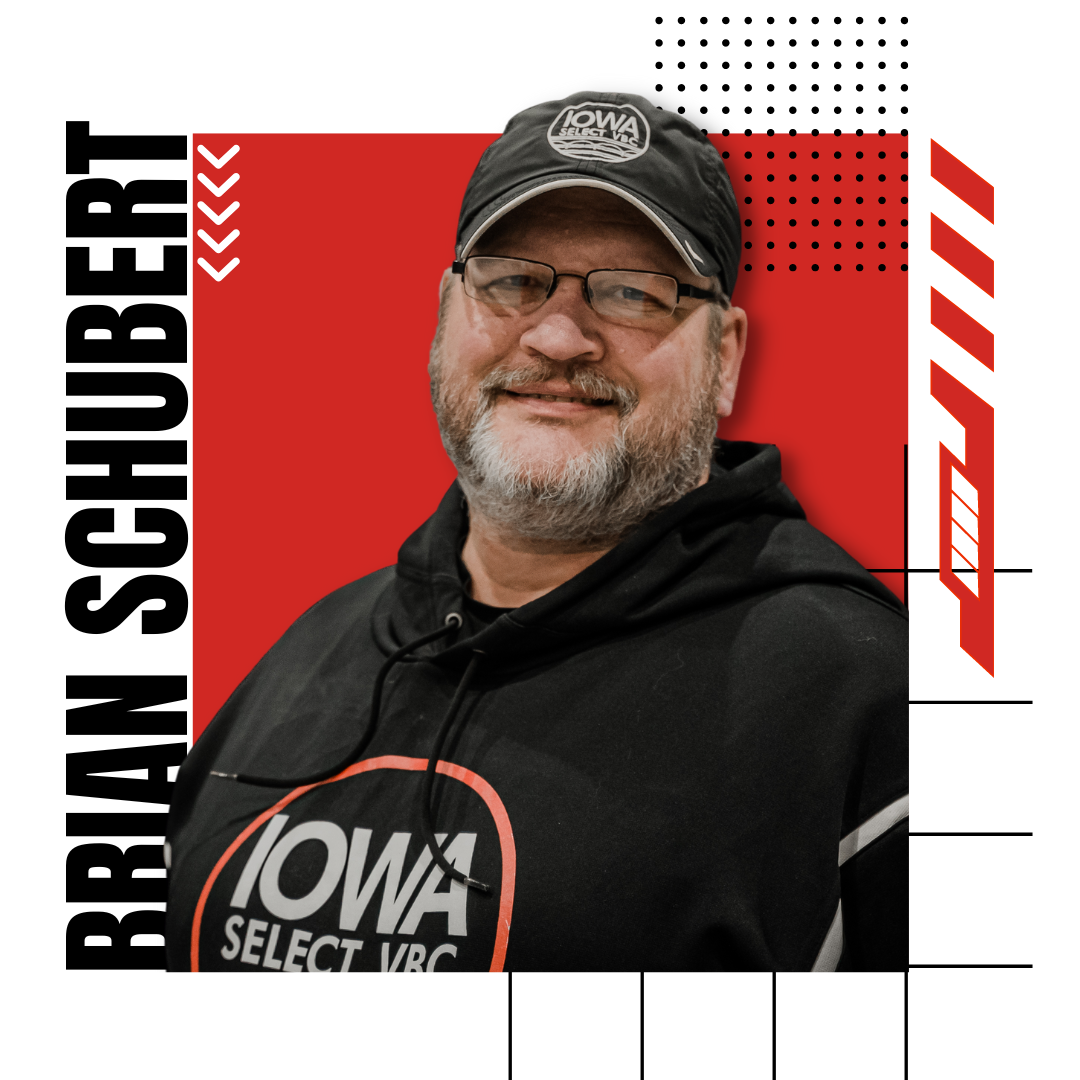 Iowa Select VBC - Head Coach - 15 Mizuno (2021-22)
Iowa Select VBC - Head Coach - 16 Mizuno (2022-23)
8th year with Iowa Select Volleyball Club
Assistant coach at North Scott High School for three years when they won 2 Mac Championships and became a state qualifying team in 2013.
Head coach of the Augustana Men's club team who finished 1st in the 2010 NIRSA nationals in the bronze division, and finished 1st in the 2011 NCVF nationals bronze division.
Before coaching Brian also spent 10 years playing as an AA/Open USA Volleyball player and in 1991 & 1992 was a World University Games/Olympic festival tryout invitee.
To schedule a lesson with Brian, please call or text - 563-505-5713
Iowa Select VBC - Assistant Coach - 16 Mizuno (2021-22)
8 years as a Collegiate Coach (Augustana Men's & Women's, Graceland Univ. Men's & Women's, Taylor Univ. Women's, and Lewis Univ. Men's)
15 years of club coaching
Played professionally in Germany
Division 1 scholarship athlete Ball State Univ.
To schedule a lesson with Mark, please email markdlau@gmail.com  or call/text 309-206-0925
Iowa Select VBC  - Head Coach - 17 Mizuno (2022-23)
Iowa Select VBC - Assistant Coach - 15 Baden (2021-22)
Iowa Select VBC - Assistant Coach - 14 Mizuno (2020-21)
Iowa Select VBC - Head Coach - 17 Club (2019-20)
Four-year Division I student-athlete on the Illinois State Volleyball Team
Named to the Missouri Valley Conference All-Conference Honor Roll all four years
Won the Missouri Valley Conference as a senior and finished second in the Missouri Valley Conference Tournament
Received an at-large bid to the NCAA Division I Volleyball Tournament as a senior
Finished her career at Illinois State University with the 15th-most assists of all-time in program history with 1,175
Named the Southern Arizona Volleyball Player of the Year as a senior in high school.
Prep Volleyball High School All-American and named to AVCA Under Armour All-American watch list.
Arizona All-Division First-Team selection as a senior and a two-time Arizona All-Division Second-Team pick, as a sophomore and junior.
Named to Arizona High Performance Team as a junior and started all matches. Tallied 1,711 career assists and 110 career aces in her high school career.
Led team to an Arizona Division I state championship in 2014.
Competed as a member of the 2013 USA Youth A2 Invitational Team.
Iowa Select VBC - Academy Coach (2022-23)
Iowa Select VBC - Head Coach - 15 Baden (2021-22)
Former Libero at Syracuse University & Hawaii Native
Ashley finished her senior year with 552 digs and 4.93 digs per set, and she holds the Syracuse record for both of those single season categories
To schedule a lesson with Ashley,  click on private lesson link below or email ash.williams10@gmail.com 
Iowa Select VBC - Academy Coach (2022-23)
Iowa Select VBC - Head Coach - 11 Mizuno (2021-22)
Iowa Select VBC - Head Coach - 16 Ried (2020-21)
Augustana College where I played volleyball and ran track.
I was a DS and setter in high school and came into Augie as a setter then transitioned to DS/libero junior and senior year.
Pleasant Valley High School - Freshman Volleyball Coach 2020
Iowa Select VBC - Assistant Coach - 15R (2022-2023)
Assistant Varsity Coach - Moline High School (2021-2023)
Sophomore Coach - Moline High School (2022-2023)
Student Coach - Rock Island High School (2017-2020)

Augustana Men's Volleyball (2020-2023)

Iowa Select Boys Alumni (2015-2020)

Competing in grass, sand, and indoor tournaments throughout the Midwest since 2015

Trained in all positions in club career

Played as a DS/Pin in college career
To schedule, call or text Alec at 309-429-7095 or email astraw65@gmail.com
Current Moline Sophomore Head Coach
Current 15 Black Head Coach
Iowa Select 14M Assistant Coach (2022-2023)
Head Coach Madison Elite VBC 16-2s (2017-2018)
Freshman Volleyball Coach Bradford High School (2016)
Assistant Coach Wisconsin Volleyball Academy-Central 15s (2015-2016)
Pin hitter for UW Oshkosh Women's Club Team (2013-2016)
Played for Wisconsin Juniors Volleyball Club (2008-2011)
To schedule, text Emily at 262-484-8298
12 Black Head Coach 2023-24
Played for Iowa Select 11-17 Mizuno
Youth Program Coach 2019-Present
Academy Program Coach 2021-22
Individual and Group lessons (up to 6 players)
Cash or Venmo Olivia-Cotton-17
To schedule, text or email Olivia at 563- 528-9737 or ocotton05@gmail.com