SUMMER TRYOUTS for 2020-2021 club season
July 28 - July 31
Summer Tryouts will only be for positions on our Mizuno club teams.
MIZUNO TEAM COMMITMENT LEVEL:
Practice – 3x per week

Strength & conditioning – 2x per week

Intense travel schedule

Season: December-May*

Player Fees range: $1425-$2150
*If a team receives a national bid, the season would be extended until July.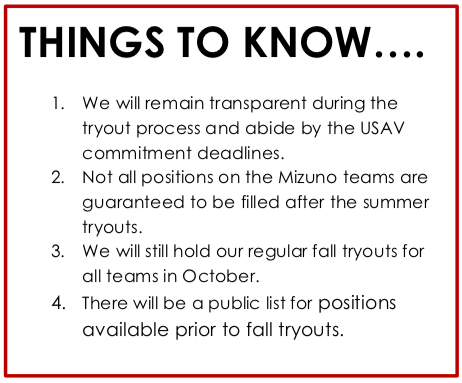 WHY Summer Tryouts?
We want to continue to offer the best experience for our athletes and families in our club.
With an earlier tryout, this allows us to plan ahead in the off-season. We are able to:
determine a competitive tournament schedule
reserve hotel blocks
uniform projections and ordering

process